Colombia Tour Options | Meet Colombian Women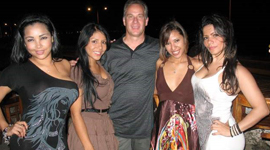 There is a place where the Amazon winds, the beautiful jungle mountains beckon, and gorgeous, smiling, warm, and loving Latina women are waiting to meet you. This is where beauties the likes of Sofia Vergara and Shakira are born.
This isn't a fantasy.
This is Colombia.
And these Colombian women have a single question for you:
"Why Aren't You Here Yet?"
Why Colombian Women?
Colombian women are just as diverse as the habitats of their nation. If you are attracted to women who have more of a European appearance and sophistication, yet with the passion and pleasantness of South Americans, Colombia has you covered.
If you are attracted to flirtatious bronze-skinned beauties, you're also in luck!
If you're looking for a lovely, principled, religious woman with whom you can enjoy amazing nights on the town and later enjoy an even more amazing life together, Colombian Women are the ladies for you.
Here are some of their best features:
Their Warmth: Colombia women can be described as many things. Cold isn't among them. If she is interested in you, her warmth and passion will be obvious and uplifting.
Principled: Colombia is a predominantly catholic country. Their religious upbringing has greatly influenced Colombian Women. Don't expect anything other than a woman who respects herself, looking for a man who she can also respect and start a family with.
Family-oriented: To say that a Colombian woman is very family-oriented would be an understatement. Her life largely revolves around close familial connections. She hopes one day to make the ultimate familial connection with her future husband.
Exciting and Fun: If you're dating a Colombian woman, expect laughter and thrills to be abundant, no matter what you're doing.
These women know that life is better when you are laughing and that's exactly what they do.
They are from a country where the challenges of life are much closer to home and they've learned to endure and laugh in the face of adversity, and hope to do so with you.
Why Ladies of Colombia Are Interested in You!
Colombian women have a reputation as some of the most strikingly attractive females on the planet. Women like Sofia Vergara and Shakira aren't around every corner, but they are much closer to being the rule rather than the exception. Why would women like that be seeking love far from home? Here are a few of the top reasons:
The Game: Colombia has retained many elements of Spanish colonialism. One of the foremost of these is a tendency of Colombian men to be master smooth talkers who view dating and coupling like a game of conquest.
Serious Prospects: Colombian men have an international reputation as less-than-loyal Lotharios. It shouldn't be surprising then that these beautiful Latin women from Colombia, who place such an emphasis on family, are looking outside of their country for the love of their life.
A Stable Family: Colombian women can see the experiences of many of their friends and relatives. They know that some surveys have reported the infidelity rate of Colombian men to be as high as 70%. They also know that the divorce rate in Colombia is roughly 9%. Culturally they know that once they are married, they aren't getting divorced. As such, they also want a stable family life that avoids the anguish of infidelity, since their first marriage will be their last.
Perception of Foreigners: Colombia women perceive foreign men to be loyal, chivalrous, caring, loving and ready to be husbands and fathers. To build the future family they see for themselves, Colombia women are very interested in meeting foreign men and seeing what might be possible.
Why Tour Colombia?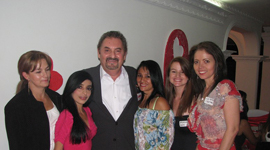 Colombia is a South American country stretching from the Atlantic Ocean to the Pacific and is one of the most densely bio-diverse countries on the planet. Colombia is blessed with natural grandeur that most countries can't hope to match. Here are some of the best reasons to experience Colombia:
The Andes Mountains are part of the longest mountain chain in the world and begin in Colombia.
The Andes Mountains are truly the active tourist's dreamscape. Activities include climbing, hiking, white water rafting, cycling, horse-riding, and stargazing from some of the highest peaks in the western hemisphere.
Colombia contains a significant portion of the Amazon rainforest and all the eco-elegance this habitat has to offer.
Medellin (like the rest of Colombia) has grown past its tumultuous days of the early '90s. It has now become one of the cultural centers and more developed cities of South America, and with a crime rate lower than many major American cities.
You can explore Colombia with Colombian women!
Where Will Our Tours Take You?
Our world-renowned Romance Tours can only be a life-changing experience, offering you the chance to meet HUNDREDS of amazing Colombian women. Since we have an over 80% success rate on our Latin tours, there's a very good chance your wife is among them.
Here's where our tours will take you on your adventure through Colombia:
Barranquilla: Barranquilla is a Colombian city known for beautiful, sexy women who have earned the Miss Colombia crown many times, in a country that boasts 7 Miss Universe winners. Barranquilla's Carnival is also a breathtaking display, matched only by Rio's. The women, however, are unmatched anywhere and have ethnic influences from across Europe.
Medellin: Medellin is an awe-inspiring city nestled in the green mountains of the Andes. Art, architecture, nature, even cable cars overlooking the peaks await you. And you can enjoy it all, arm-in-arm with a Medellin woman.
Cartagena: Cartagena is a gem of South America, serving as a tourist hotspot for Colombians and international travelers. The city will stun. The scenery will thrill. The gorgeous, genuine, women you will meet on the tour will leave you wanting more. That is until you find the one you will never want to leave.
THE "LATIN SINGLES TRIP" INCLUDES:
Two fully catered, specific invitation, large Socials
Top-Class Hotel accommodations in Colombian Cities
Unlimited Personal Introductions
Complimentary interpreters provided at all Socials
Airport Pickup
Breakfast daily
One hotel area and city orientation tour
24 hour hospitality and guidance from our AFA staff
In-house complimentary interpreting services located in the AFA office
1 month Platinum Membership ($95.00 value)
Colombia and Colombia women are waiting for you.
What are you waiting for?
Here are some testimonials from guys who didn't wait:
Hello,
I wanted to personally thank you all and the Cartagena Staff for the wonderful Cartagena tour you put on in October. I really enjoyed my time there in Cartagena, it was very interesting to see the life in Colombia and it was especially special to meet the beauty ladies of Cartagena. I thoroughly enjoyed the activities that where planned for the Cartagena tour and Cartagena Staff was very friendly and helpful. I would definite recommend the tour to any man seeking to beauty ladies who our marriage minded. I meet a really nice lady there in Cartagena and I look forward to going back to Cartagena soon.
Nick B.
Dear AFA,
I am writing to tell you how much I enjoyed my AFA Cartagena tour - thank you so much for making it such a wonderful experience! You and your staff were helpful in every possible way - meeting us at breakfast every morning, organizing the great socials, and arranging introductions and dates with the lovely ladies. I hope to return to Cartagena again soon. Thank you again!
Steve O
I have been on many singles tours, but AFA has the best of all. I meet more quality women on one tour then I did on six of your competitor's tours. I only wish I had joined you first. Thank you AFA, I no longer need to go on anymore tours, I found the women of my dreams. You're the Best!
Steve K.